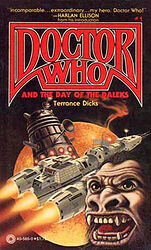 Edition:
US (paperback)
Released:
April 1979

Publisher:
Pinnacle
ISBN:
0-523-40565-0
Format:
paperback
Owned:
Buy:

| | | |
| --- | --- | --- |
| | | (Unable to fetch price) |

| | | |
| --- | --- | --- |
| | | (Unable to fetch price) |
Note: Number 1 in the series of 10 US paperback novelisations published by Pinnacle in 1979-1980 — the others were: 2) The Doomsday Weapon, 3) The Dinosaur Invasion, 4) Genesis of the Daleks, 5) Revenge of the Cybermen, 6) The Loch Ness Monster, 7) The Talons of Weng-Chiang, 8) The Masque of Mandragora, 9) The Android Invasion and 10) The Seeds of Doom. Each of these US editions were reprinted several times between 1979 and 1989, with the ISBN changing 3 times (the different ISBNs are listed as separate editions below).
Cover blurb:
EXTERMINATE!
EXTERMINATE!
The Daleks, Doctor Who's oldest and most ruthless enemies, have one goal — total world power. Their prime weapon is time travel. In the late Twentieth Century, they attacked the Planet Earth. Their plan: alter the course of history. Start World Wars. Wipe out the human population. They were very effective.
Can Doctor Who, trapped in the Twenty-Second Century, reverse history's course in time to save our planet and every living thing on it, including himself, from the devastating and evil force of the Daleks?
Doctor Who is a mysterious, zany, and very mature Time Lord (750 years mature to be exact) who hurtles through space in a stolen Time Machine. Since there's a problem with the steering, he never lands exactly when or where he plans to. This, along with his desperate desire to bring law and order to the universe, and his insatiable curiosity, consistently places him in strange and often perilous circumstances.
Doctor Who, created for and by the BBC, is one of the longest running and most popular shows in British television history. Now this incredible space fantasy can be seen on television in major cities throughout the United States via Time-Life Television.