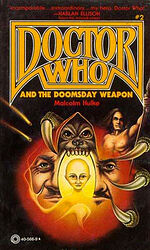 Edition:
US (paperback)
Released:
April 1979

Publisher:
Pinnacle
ISBN:
0-523-40566-9
Format:
paperback
Owned:
Buy:
Note: Number 2 in the series of 10 US paperback novelisations published by Pinnacle in 1979-1980 — the others were: 1) Day of the Daleks, 3) The Dinosaur Invasion, 4) Genesis of the Daleks, 5) Revenge of the Cybermen, 6) The Loch Ness Monster, 7) The Talons of Weng-Chiang, 8) The Masque of Mandragora, 9) The Android Invasion and 10) The Seeds of Doom. Each of these US editions were reprinted several times between 1979 and 1989, with the ISBN changing 3 times (the different ISBNs are listed as separate editions below).
Cover blurb:
TERRORIZER OF THE UNIVERSE
While Doctor Who was exiled on Earth and restricted to the Twentieth Century, the charming but hypnotically evil Master, whose one ambition is to destroy Doctor Who, walked off with the Doomsday Weapon file.
Doctor Who, commanded by the Time Lords to stop the Master — at any cost — is directed to a bleak planet in the year 2471. Hidden somewhere on that planet is the Doomsday Weapon — lurking somewhere in that Time Zone is the Master!
Will Doctor Who, hampered by alien monsters, locate and dismantle the Doomsday Weapon before the Master triggers it? It's a terrifying countdown affecting all mankind — past, present and forever!
Doctor Who is a mysterious, zany, and very mature Time Lord (750 years mature to be exact) who hurtles through space in a stolen Time Machine. Since there's a problem with the steering, he never lands exactly when or where he plans to. This, along with his desperate desire to bring law and order to the galaxies, and his insatiable curiosity, consistently places him in weird and often wild circumstances.
Doctor Who, created for and by the BBC, is one of the longest running and most popular shows in British television history. Now this incredible space fantasy, starring Tom Baker, can be seen on television in major cities throughout the United States via Time-Life Television.