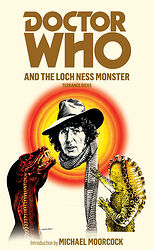 Edition:
UK (4th paperback)
Released:
May 2012

Publisher:
BBC Books
ISBN:
978-1-84990-475-9
Format:
paperback
Owned:
Buy:

New:

£12.99

£10.75 Save 17%
Used:
£0.66

| | | |
| --- | --- | --- |
| | | (Unable to fetch price) |
Note: Following Random House/BBC Books' 6 successful novelisation reprints in 2011, this was a second batch of half-a-dozen reprints, released in both paperback and e-book form. The others in this batch were: The Ark in Space, The Day of the Daleks, The Ice Warriors, The Tenth Planet and The Three Doctors.
Cover blurb:
Harry stared in amazement at the fierce head on the immensely long neck, the huge body with its two low humps, and the flat, powerful tail. 'We must be under Loch Ness,' he gasped. 'And that thing — that's the monster!'
Centuries ago, a Zygon spaceship crash landed in Loch Ness. Now, with their home planet destroyed, the alien creatures plan to take over Earth. Their most powerful weapon is a huge, armoured, dinosaur-like creature of terrifying power that they brought to Earth as an embryo — the Loch Ness Monster.
The Doctor, Sarah, and Harry soon discover that the Zygons have another weapon. They can assume the identity of any human they capture. Who knows which of their friends might really be a Zygon?
UNIT faces one of its toughest battles as Broton, Warlord of the Zygons, puts his plan into action and the Loch Ness Monster attacks.
THIS NOVEL IS BASED ON A DOCTOR WHO STORY WHICH WAS ORIGINALLY BROADCAST FROM 30 AUGUST TO 20 SEPTEMBER 1975.
Featuring the Fourth Doctor as played by Tom Baker, with his companions Sarah Jane Smith and Harry Sullivan and the UNIT organisation commanded by Brigadier Lethbridge-Stewart