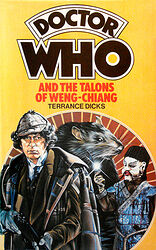 Edition:
UK (hardback)
Released:
November 1977

Publisher:
Allan Wingate
ISBN:
0-85523-170-X
Format:
hardback
Owned:
Buy:

| | | |
| --- | --- | --- |
| | | (Not currently available) |

| | | |
| --- | --- | --- |
| | | (Not currently available) |

| | | |
| --- | --- | --- |
| | | (Not currently available) |
Cover blurb:
No blurb on back cover. The inside cover flaps read as follows:
Stepping out of the Tardis into Victorian London, Leela and the Doctor are confronted by menacing, diabolical horrors shrouded within the swirling London fog — a man's death cry, an attack by Chinese Tong hatchet men, giant rats roaming the sewers, young women mysteriously disappearing...
The hideously deformed Magnus Creel [sic], conducting a desperate search for the lost Time Cabinet, is the instigator of all this evil. Posing as the Chinese god, Weng-Chiang, Greel uses the crafty Chang, and the midget manikin, Mr Sin, to achieve his terrifying objectives.
The Doctor must use all his skill, energy and intelligence to escape the talons of Weng-Chiang.
Terrance Dicks was born in 1935 and educated at East Ham Grammar School and Downing College, Cambridge.
After a spell in advertising the author became a full-time scriptwriter, first for radio, then television where for five years he was Script Editor of the 'Doctor Who' series. He is now a free-lance author and writes many of the highly successful 'Doctor Who' books.
Terrance Dicks lives in Hampstead, London, is married and has three children. He is an obsessive reader and likes 'messing about in boats'.