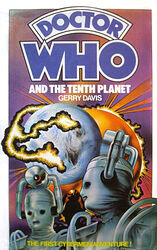 Edition:
UK (hardback)
Released:
February 1976

Publisher:
Allan Wingate
ISBN:
0-85523-062-2
Format:
hardback
Owned:
Buy:

| | | |
| --- | --- | --- |
| | | (Not currently available) |

| | | |
| --- | --- | --- |
| | | (Not currently available) |
Cover blurb:
Also available in the 'Doctor Who' series
DOCTOR WHO AND THE PLANET OF THE SPIDERS
Terrance Dicks
The last exciting adventure of DOCTOR WHO'S third incarnation — in which he has to surrender to a force stronger than himself — the ambitious evil Eight-Legs, the SPIDERS!
DOCTOR WHO
THE THREE DOCTORS
Terrance Dicks
In which Doctors One, Two and Three cross time and space and come together to fight their most dangerous enemy — OMEGA — an exiled and bitter Time Lord, who is ruthlessly planning the destruction of the whole Universe.
DOCTOR WHO AND THE LOCH NESS MONSTER
Terrance Dicks
At last! The encounter of the fourth Doctor with the dreaded monster — will DOCTOR WHO be able to unravel the legend of Loch Ness, and overcome the power of the ruthless ZYGONS?
DOCTOR WHO AND THE DINOSAUR INVASION
Malcolm Hulke
The Doctor and Sarah arrive back in the TARDIS to find London completely deserted — except for prehistoric dinosaurs which keep appearing, and just as suddenly disappearing. Has their return to Earth been planned? Who can be behind it all?
The inside cover flaps read as follows:
The Sergeant blinked again. Three lights were moving towards him through the murk of the blizzard. Even as he looked, the lights changed into three tall, straight figures, clad in silver-armoured suits, advancing across the ice with a slow, deliberate step. Horror-struck, the Sergeant reached for his gun, and a stream of bullets sprayed across the marching figures. BUT THEY CONTINUED MARCHING...
The CYBERMEN have arrived. The first invasion of Earth by this invincible, fearless race — and the last thrilling adventure of the first DOCTOR WHO.
DOCTOR WHO — awarded The Writer's Guild Award for the best British children's original drama script.

Gerry Davis has engaged in almost every branch of show business, from English provincial repertory theatre to writing (and making) documentaries for the National Film Board of Canada.
During seven years at the B.B.C., he wrote and edited a variety of television drama shows, including 'Softly Softly', 'Doomwatch' and, of course, 'Doctor Who', for which he and scientist Kit Pedler created the famous Cybermen.
The author is now a full-time and very successful writer. He lives in Sussex and lists his hobbies as music, walking, sailing and tennis.