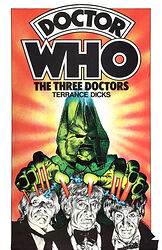 Edition:
UK (hardback)
Released:
November 1975

Publisher:
Allan Wingate
ISBN:
0-85523-053-3
Format:
hardback
Owned:
Buy:

| | | |
| --- | --- | --- |
| | | (Not currently available) |

| | | |
| --- | --- | --- |
| | | (Not currently available) |

| | | |
| --- | --- | --- |
| | | (Not currently available) |
Cover blurb:
Also available in the 'Doctor Who' series
DOCTOR WHO AND THE PLANET OF THE SPIDERS
Terrance Dicks
The last exciting adventure of Doctor Who's third incarnation — in which he has to surrender to a force stronger than himself — the ambitious evil Eight-Legs, the SPIDERS!
and coming shortly
DOCTOR WHO MEETS THE LOCH NESS MONSTER
Terrance Dicks
At last! The encounter of the fourth Doctor with the dreaded Monster — will DOCTOR WHO be able to unravel the legend of Loch Ness?
Inside cover flaps read as follows:
Jo glanced up at the Doctor.
'Things must be pretty serious then.'
'They are, Jo. Very serious indeed. The whole of the Universe is in danger!'
The most amazing WHO adventure yet, in which Doctors One, Two and Three cross time and space and come together to fight a ruthlessly dangerous enemy — OMEGA. Once a Time Lord, now exiled to a black hole in space, Omega is seeking a bitter and deadly revenge against the whole Universe...
DOCTOR WHO — awarded the 1974 Writers' Guild Award for the best British children's original drama script.

Terrance Dicks was born in 1935 and educated at East Ham Grammar School and Downing College, Cambridge.
After a spell in advertising the author became a full-time scriptwriter, first for radio, then television where for five years he was Script Editor of the 'Doctor Who' series. He is now a freelance author and writes many of the highly successful 'Doctor Who' books, and is currently launching an adventure series for boys and girls about the Canadian Mounted Police Force.
Terrance Dicks lives in Hampstead, London, is married and has three children. He is an obsessive reader, likes 'messing about in boats', and is cultivating an interest in mysticism and meditation.