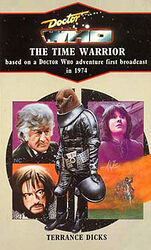 Edition:
UK (2nd paperback)
Title:
Doctor Who: The Time Warrior
Released:
June 1993

Publisher:
Target
ISBN:
0-426-20023-3
Format:
paperback
Owned:
Buy:
Note: Same ISBN as previous paperback edition.
Cover blurb:
'It was the devil's work, Captain... This wizard they call the Doctor threw all the fires and stenches of hell at us!'
Linx, the Sontaran Warrior, crash-lands his space-craft on Earth after being crippled by an inter-stellar battle with the Rutans. Unfortunately for him, he's landed in Medieval Wessex, where life is primitive and the technology to repair his ship hasn't been invented yet. He allies himself with the local bandit-chief Irongron, and builds a crude time-machine in order to snatch the people and equipment he needs from the twentieth century. Meanwhile, the Doctor, who is searching for these missing scientists, transports himself and Sarah Jane to their place of capture — the foul medieval lair of Irongron's castle, where the axe meets the ray-gun, in the hostile environment of the Middle Ages.
This was the first Doctor Who TV adventure which featured Elisabeth Sladen as Sarah Jane the stowaway reporter, and revealed the name of the Time Lords' planet, Gallifrey.