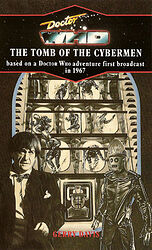 Edition:
UK (2nd paperback)
Title:
Doctor Who: The Tomb of the Cybermen
Released:
October 1992

Publisher:
Target
ISBN:
0-426-11076-5
Format:
paperback
Owned:
Buy:
Note: Same ISBN as previous paperback edition.
Cover blurb:
The Cyberman went on raising his gun, slowly, slowly...
The Cybermen — indestructible, unfeeling monsters whose only goal is power — have disappeared from the planet of Telos, and when a party of archaeologists, accompanied by the Doctor and his companions, land on the barren, deserted world, they discover what appears to be their tomb.
But once inside, it becomes clear to the party that the Cybermen are not dead, and some of the scientists are intent on re-activating the monsters. How can the Doctor prevent these ruthless humans from awakening the Cybermen?
The Tomb of the Cybermen was first broadcast in 1967 and was then thought to be lost forever until it was rediscovered in 1992 and released on video. Gerry Davis's novelization is based on the original story he wrote with Kit Pedler.