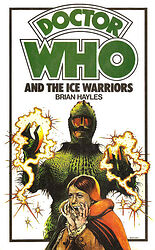 Edition:
UK (1st hardback)
Released:
March 1976

Publisher:
Allan Wingate
ISBN:
0-85523-066-5
Format:
hardback
Owned:
Buy:

| | | |
| --- | --- | --- |
| | | (Not currently available) |

| | | |
| --- | --- | --- |
| | | (Not currently available) |

| | | |
| --- | --- | --- |
| | | (Unable to fetch price) |
Cover blurb:
Also available in the 'Doctor Who' series
DOCTOR WHO AND THE THREE DOCTORS
Terrance Dicks
In which Doctors One, Two and Three cross time and space and come together to fight their most dangerous enemy — OMEGA — an exiled and bitter Time Lord, who is ruthlessly planning the destruction of the whole universe.
DOCTOR WHO AND THE LOCH NESS MONSTER
Terrance Dicks
At last! The encounter of the fourth Doctor with the dreaded monster — will DOCTOR WHO be able to unravel the legend of Loch Ness, and overcome the power of the ruthless ZYGONS?
DOCTOR WHO AND THE DINOSAUR INVASION
Malcolm Hulke
The Doctor and Sarah arrive back in the TARDIS to find London completely deserted — except for prehistoric dinosaurs, which keep suddenly appearing. Has the return of these creatures to Earth been planned and, if so, who can be behind it all?
The inside cover flaps read as follows:
The world is held in the grip of a Second Ice Age, and faces total destruction from the rapidly advancing glaciers.
DOCTOR WHO, with Victoria and Jamie, lands at a top scientific base in England, where they have just unearthed an ancient ICE WARRIOR. Aliens from Mars, preserved in the ice for centuries and now revitalised, the Ice Warriors feel ready to take over... Can the Doctor overcome these warlike Martians and halt the relentless approach of the ice glaciers...?
DOCTOR WHO — awarded The Writer's Guild Award for the best British children's orginal drama script.
Brian Hayles was born in Portsmouth in 1931. He trained as a sculptor and taught art for some years before becoming a full-time writer for television and radio. He has written scripts for 'Z-Cars' and 'The Regiment' and still writes regularly for 'The Archers of Ambridge'. His science fiction interests are reflected in his work with 'Doctor Who', for which he wrote several television scripts. This is his second published novel based on the 'Dr Who' TV series.
Brian Hayles is married and lives in Warwickshire. In between writing he takes time off to enjoy the beautiful countryside around him.