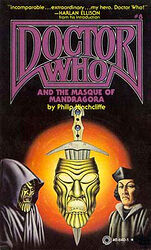 Edition:
US (paperback)
Released:
November 1979

Publisher:
Pinnacle
ISBN:
0-523-40640-1
Format:
paperback
Owned:
Buy:
Note: Number 8 in the series of 10 US paperback novelisations published by Pinnacle in 1979-1980 — the others were: 1) Day of the Daleks, 2) The Doomsday Weapon, 3) The Dinosaur Invasion, 4) Genesis of the Daleks, 5) Revenge of the Cybermen, 6) The Loch Ness Monster, 7) The Talons of Weng-Chiang, 9) The Android Invasion and 10) The Seeds of Doom. Each of these US editions were reprinted several times between 1979 and 1989, with the ISBN changing 3 times (the different ISBNs are listed as separate editions below).
Cover blurb:
IN 1492, DOCTOR WHO CAME OUT OF THE BLUE
It is the Italian Renaissance during the corrupt reign of the powerful Medicis. Doctor Who, angry because he was forced to land on Earth by the incredible Mandragora Helix, walks right into a Machiavellian plot. The unscrupulous Count Frederico plans to usurp the rightful rule of his naive nephew. This, with the help of Hieronymous, influential court astrologer and secret cult member.
Intent on righting all wrongs, Doctor Who studies their political maneuvers. He uncovers a larger, even more malevolent plot — a plot to rule not only San Martino Province, but the entire world! Hieronymous has been taken over — both in mind and body — by the Mandragora energy ball, an alien, but all-powerful intelligence. Using Hieronymous and his cult members as a bridgehead, the Mandragora Helix intends to conquer Earth and dominate its people!
The question is, will Doctor Who prove a true Renaissance man? Will he be able to drain the Mandragora of its power and foil the Count as well?
Doctor Who is a mysterious, zany, and very mature Time Lord (750 years mature to be exact) who hurtles through space in a stolen Time Machine. Since there's a problem with the steering, he never lands exactly when or where he plans to. This, along with his desperate desire to bring law and order to the galaxies, and his insatiable curiosity, consistently places him in weird and often wild circumstances.
The Incredible Space Fantasy
Now a Hit Television Series