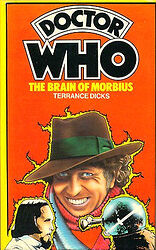 Edition:
UK (hardback)
Released:
May 1977

Publisher:
Allan Wingate
ISBN:
0-85523-201-3
Format:
hardback
Owned:
Buy:

| | | |
| --- | --- | --- |
| | | (Not currently available) |

| | | |
| --- | --- | --- |
| | | (Not currently available) |

| | | |
| --- | --- | --- |
| | | (Not currently available) |
Cover blurb:
No blurb on back cover. The dustjacket flaps contain the following blurb:
Why do so many spaceships crashland on Karn, a bleak, lonely and seemingly deserted planet?
Are they doomed by the mysterious powers of the strange, black-robed Sisterhood, jealously guarding their secret of eternal life? Or does the mad Dr Solon, for some evil purpose of his own, need the bodies of the victims? And more especially, the body of DOCTOR WHO...
Terrance Dicks was born in 1935 and educated at East Ham Grammar School and Downing College, Cambridge.
After a spell in advertising the author became a full-time scriptwriter, first for radio, then television where for five years he was Script Editor of the 'Doctor Who' series. He is now a free-lance author and writes many of the highly successful 'Doctor Who' books, as well as an adventure series for boys and girls about the Canadian Mounted Police Force.
Terrance Dicks lives in Hampstead, London, is married and has three children. He is an obsessive reader and likes 'messing about in boats'.