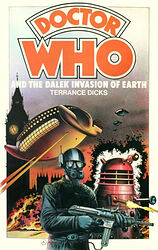 Edition:
UK (1st hardback)
Released:
March 1977

Publisher:
Allan Wingate
ISBN:
0-85523-171-8
Format:
hardback
Owned:
Buy:

| | | |
| --- | --- | --- |
| | | (Not currently available) |

| | | |
| --- | --- | --- |
| | | (Not currently available) |

| | | |
| --- | --- | --- |
| | | (Not currently available) |
Cover blurb:
No blurb on back cover. The inner cover flaps read as follows:
The TARDIS lands in a London of future times — a city of fear, devastation and holocaust... a city now ruled by the DALEKS.
The Doctor and his companions meet a team of underground resistance workers among the few survivors, but after an unsuccessful attack on the Dalek spaceship, they are all forced to flee the capital.
A perilous journey through England finally brings them to the secret centre of Dalek operations... and the mysterious reason for the Dalek invasion of Earth!
Terrance Dicks was born in 1935 and educated at East Ham Grammar School and Downing College, Cambridge.
After a spell in advertising the author became a full-time scriptwriter, first for radio, then television where for five years he was Script Editor of the 'Doctor Who' series. He is now a free-lance author and writes many of the highly successful 'Doctor Who' books, as well as an adventure series for boys and girls about the Canadian Mounted Police Force.
Terrance Dicks lives in Hampstead, London, is married and has three children. He is an obsessive reader and likes 'messing about in boats'.