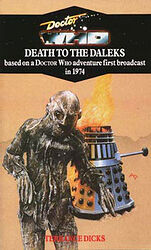 Edition:
UK (2nd paperback)
Released:
April 1991

Publisher:
Target
ISBN:
0-426-20042-X
Format:
paperback
Owned:
Buy:
Note: Same ISBN as previous paperback edition.
Cover blurb:
'It's as if the TARDIS is dying,' whispered Sarah...
Mysteriously drained of its energy by a stange force, the TARDIS and its occupants are stranded on the planet Exxilon, a planet inhabited by a savage and degenerate race. But it's here alone that the cure for the hideous space plague can be found, a cure so vital that even the Daleks are willing to join forces with the Doctor in order to find it...
Doctor Who — Death to the Daleks was first broadcast in 1974 and was written by Terry Nation, the creator of the Daleks. This novelization was written by Terrance Dicks, who was script editor of the series for five years and who has novelized more than 60 Doctor Who television stories.
Doctor Who is currently being reshown on BSB television.