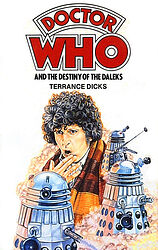 Edition:
UK (hardback)
Released:
November 1979

Publisher:
WH Allen
ISBN:
0-491-02640-4
Format:
hardback
Owned:
Buy:

| | | |
| --- | --- | --- |
| | | (Not currently available) |

| | | |
| --- | --- | --- |
| | | (Not currently available) |

| | | |
| --- | --- | --- |
| | | (Unable to fetch price) |
Cover blurb:
No blurb on back cover. The inner dustjacket flaps read as follows:
Landing on an apparently devastated planet, the Doctor and Romana make a horrifying discovery.
The planet is Skaro, home-world of the Daleks.
The Movellans, also present on Skaro, are in face a race of robots as cruel and ruthless as the Daleks themselves.
The two robot races have been locked in a ferocious war for hundreds of years, and now the Daleks are excavating Skaro in order to find and revive Davros, the mad, crippled, scientific genius who first created them, in the hopes that Davros will give them the scientific superiority to break the deadlock with their Movellan enemies.
Faced once more with his deadliest and seemingly indestructible enemies, the Doctor's wits and strength are stretched to their very limits...
Terrance Dicks was educated at East Ham Grammar School and Downing College, Cambridge.
After a spell in advertising the author became a full-time scriptwriter, first for radio, then television where for five years he was Script Editor of the 'Doctor Who' series. He is now a freelance author and writes many of the highly successful 'Doctor Who' books.
Terrance Dicks lives in Hampstead, London, is married and has three children.