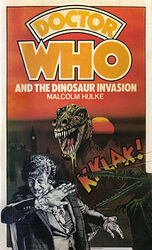 Edition:
UK (hardback)
Released:
February 1976

Publisher:
Allan Wingate
ISBN:
0-85523-061-4
Format:
hardback
Owned:
Buy:

| | | |
| --- | --- | --- |
| | | (Not currently available) |

| | | |
| --- | --- | --- |
| | | (Not currently available) |

| | | |
| --- | --- | --- |
| | | (Not currently available) |
Cover blurb:
Also available in the 'Doctor Who' series
DOCTOR WHO AND THE PLANET OF THE SPIDERS
Terrance Dicks
The last exciting adventure of DOCTOR WHO'S third incarnation — in which he has to surrender to a force stronger than himself — the ambitious evil Eight-Legs, the SPIDERS!
DOCTOR WHO
THE THREE DOCTORS
Terrance Dicks
In which Doctors One, Two and Three cross time and space and come together to fight their most dangerous enemy — OMEGA — an exiled and bitter Time Lord, who is ruthlessly planning the destruction of the whole Universe.
DOCTOR WHO AND THE LOCH NESS MONSTER
Terrance Dicks
At last! The encounter of the fourth Doctor with the dreaded monster — will DOCTOR WHO be able to unravel the legend of Loch Ness, and overcome the power of the ruthless ZYGONS?
DOCTOR WHO AND THE TENTH PLANET
Gerry Davis
The CYBERMEN have arrived. The first invasion of Earth by this invincible, fearless race — and the last thrilling adventure of the first DOCTOR WHO.
The inside cover flaps read as follows:
The Doctor walked slowly forward into the cul-de-sac. The giant dinosaur turned its head to focus on the midget now approaching... the Doctor aimed his gun to fire... suddenly from behind came a great roar of anger. He spun round — blocking the exit from the narrow street towered a Tyrannosaurus Rex, its savage jaws dripping with blood...
The Doctor and Sarah arrive back in the TARDIS to find London completely deserted — except for the dinosaurs. Has the return of these prehistoric creatures been deliberately planned and, if so, who can be behind it all?
DOCTOR WHO — awarded The Writer's Guild Award for the best British children's original drama script.
Malcolm Hulke has written for the 'Doctor Who' television series since 1965. As well as six 'Doctor Who' books, he has written several adult novels based on the television series 'Crossroads', and has recently completed Cassell's Parliamentary Dictionary, a new analytical guide.
The author lectures frequently at schools and professional gatherings on the subject of writing. He enjoys travelling abroad as a relaxation from writing, when time allows it.