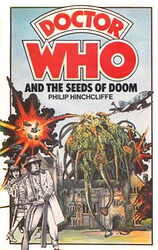 Edition:
UK (2nd hardback)
Released:
March 1978 (Exact date unconfirmed)

Publisher:
WH Allen
ISBN:
0-491-02104-6
Format:
hardback
Owned:
Buy:

| | | |
| --- | --- | --- |
| | | (Unable to fetch price) |

| | | |
| --- | --- | --- |
| | | (Not currently available) |
Cover blurb:
No blurb on back cover. The inner dustjacket flaps read as follows:
In the snowy wastes of blizzard-swept Antarctica, a strange pod-like object is unearthed, buried deep in the ice. Curiosity turns to alarm as the pod begins to grow — then horror when suddenly it cracks open and a snaking green tendril shoots out, mercilessly seeking the nearest live victim...
In London, the botanical experts are bewildered. Doctor Who is called in to fight this unknown horror. But will he be in time to save Earth from the rapidly spreading tentacles of the Krynoid, giant man-hunting monster from a world where the plants eat the animals?
Philip Hinchcliffe was born in 1944, and educated at Slough Grammar School and Pembroke College, Cambridge.
After a short spell of teaching, the author entered television in 1968. There he worked in ITV as script editor, story editor and producer on a variety of programmes. Since 1974 he has been with the BBC, as a producer.
Philip Hinchcliffe is married with two young children and lives near Windsor.