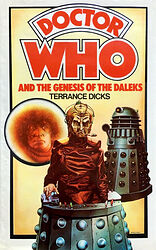 Edition:
UK (hardback)
Released:
July 1976

Publisher:
Allan Wingate
ISBN:
0-85523-072-X
Format:
hardback
Owned:
Buy:

| | | |
| --- | --- | --- |
| | | (Not currently available) |

| | | |
| --- | --- | --- |
| | | (Not currently available) |

| | | |
| --- | --- | --- |
| | | (Not currently available) |
Cover blurb:
Also available in the 'Doctor Who' series
DOCTOR WHO AND THE REVENGE OF THE CYBERMEN
Terrance Dicks
The Doctor, Sarah and Harry find themselves on a strange planet trapped in the midst of a terrifying struggle to death — between the ruthless, power-hungry Cybermen and the determined, desperate Vogans.
DOCTOR WHO AND THE ICE WARRIORS
Brian Hayles
The world is caught in the grip of a second Ice Age when an ancient Ice Warrior is discovered, perfectly preserved in the ice for centuries. Alarm spreads as it turns out to be an alien from Mars, and ruthlessly hostile.
DOCTOR WHO AND THE LOCH NESS MONSTER
Terrance Dicks
At last! The encounter of the fourth Doctor with the dreaded monster — will DOCTOR WHO be able to unravel the legend of Loch Ness, and overcome the power of the terrible ZYGONS?
The inside cover flaps read as follows:
The place: Skaro
Time: The Birth of the Daleks
After a thousand years of futile war, DAVROS has perfected the physical form that will carry his race into eternity — the dreaded DALEK. Without feeling, conscience or pity, the Dalek is programmed to EXTERMINATE...
At the command of the Time Lords, DOCTOR WHO travels back through time in an effort to totally destroy this terrible menace of the future. But even the Doctor cannot always win...
DOCTOR WHO — awarded The Writer's Guild Award for the best British children's original drama script.
Terrance Dicks was born in 1935 and educated at East Ham Grammar School and Downing College, Cambridge.
After a spell in advertising the author became a full-time scriptwriter, first for radio, then television where for five years he was Script Editor of the 'Doctor Who' series. He is now a freelance author and writes many of the highly successful 'Doctor Who' books, and is currently launching a new adventure series for boys and girls about the Canadian Mounted Police Force.
Terrance Dicks lives in Hampstead, London, is married and has three children. He is an obsessive reader, likes 'messing about in boats' and is cultivating an interest in mysticism and meditation.