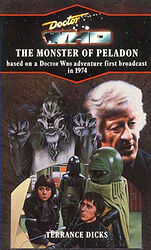 Edition:
UK (2nd paperback)
Title:
The Monster of Peladon
Released:
June 1992

Publisher:
Target
ISBN:
0-426-20132-9
Format:
paperback
Owned:
Buy:
Note: Same ISBN as previous paperback edition.
Cover blurb:
'You stand accused of both sabotage and sacrilege. Do you wish to confess before you die?'
Fifty years after his first visit to Peladon, the Doctor returns to find that Queen Thalira has inherited a troubled kingdom from her father.
Membership of the Galactic Federation was expected to bring peace and prosperity to the planet, but the spirit of the sacred monster Aggedor is once more spreading terror and death.
The Doctor uncovers a treacherous plot to steal the mineral wealth of Peladon, and is once again confronted by his old enemies — the Ice Warriors.
This is a novelization by Terrance Dicks of the original television series by Brian Hayles, who was also the author of The Curse of Peladon.