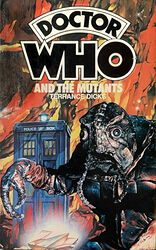 Edition:
UK (hardback)
Released:
October 1977

Publisher:
Allan Wingate
ISBN:
0-85523-471-7
Format:
hardback
Owned:
Buy:

| | | |
| --- | --- | --- |
| | | (Not currently available) |

| | | |
| --- | --- | --- |
| | | (Not currently available) |

| | | |
| --- | --- | --- |
| | | (Not currently available) |
Cover blurb:
No blurb on back cover. The inside flaps read as follows:
A massive shape scuttles out of the darkness and strikes the earth Overlord down. It is a Mutant — a huge insectoid creature. It moves in a crouch, its back arched and scaly, with huge knobbly vertebrae. The controlling Overlord, the Marshal, has ordered all such Mutants killed instantly. What was happening to the people of Solos? Why are they gradually turning into Monsters? Hands that become claws, flesh that turns scale-like... When DOCTOR WHO meets the Marshal and Jaeger, he realizes that all is not as it appears to be. The Marshal has a sinister plan to gain control of this planet, and DOCTOR WHO must save Solos from this mad earthman, as well as save the Solonians themselves.
Terrance Dicks was born in 1935 and educated at East Ham Grammar School and Downing College, Cambridge.
After a spell in advertising the author became a full-time scriptwriter, first for radio, then television where for five years he was Script Editor of the 'Doctor Who' series. He is now a freelance author and writes many of the highly successful 'Doctor Who' books.
Terrance Dicks lives in Hampstead, London, is married and has three children. He is an obsessive reader, likes 'messing about in boats' and is cultivating an interest in mysticism and meditation.