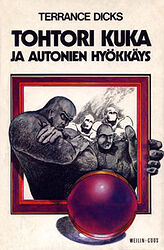 Edition:
Finland (hardback)
Title:
Tohtori Kuka Ja Autonien Hyökkäys
Released:
January 1976

Publisher:
Weilin & Göös
ISBN:
951-35-1313-0
Format:
hardback
Owned:
Note: Only one other Finnish novelisation was ever published: The Cave-Monsters.
Cover blurb:
Tohtori KUKA on päähenkilönä uudessa nuorten tieteisjännärisarjassa, joka perustuu BBC:n suosittuun televisiosarjaan.
Maahan karkotettu tohtori KUKA on yksi avaruuden 'aikavaltiaista', joka pystyy vaivatta liikkumaan aikakaudesta toiseen ja jonka erikoiskykyjen avulla ihmiset selviytyvät maata ja ihmiskuntaa uhkaavista vaaroista.
"Tohtori KUKA, nuorten oma ohjelma, jota aikuiset rakastavat."
Gerard Garrett
Sarjassa ilmestyvät ensimmäisinä:
Terrance Dicks: Tohtori KUKA ja autonien hyökkäys
Malcolm Hulke: Tohtori KUKA ja luolahirviöt
Edellinen kertoo maahan asettuneen kosmisen aivokeskuksen hallitsemista muoviroboteista, jotka aikovat vallata maan, jälkimmäinen esihistoriallisista, tuhatvuotisesta syväjäähdytystilasta heräävistä 'liskoihmisistä', jotka palaavat vaatimaan muinaisia oikeuksiaan.
English translation:
Doctor WHO stars in a new science fiction thriller for young readers based on the popular BBC television series.
Doctor WHO is a 'timelord' from space, capable of travelling between different time periods, helping Earth and humanity to survive by using his special abilities.
"Doctor WHO, a TV show for the young, but loved by adults."
Gerard Garrett
First published in the series:
Terrance Dicks: Doctor WHO and the Auton Invasion
Malcolm Hulke: Doctor WHO and the Cave Monsters
The first book tells a tale of plastic robots settled on Earth, controlled by a central brain, planning to take over the world, the second one of pre-historic 'lizard people' waking from a deep-frozen state and claiming their ancient rights.