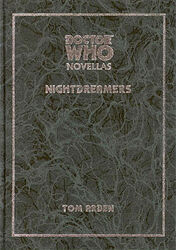 In November 2001, British company Telos Publishing launched the first BBC-licensed Doctor Who "novella". Novellas are between 20,000 and 40,000 words in length — in other words, longer than a short story but shorter than a novel. This range of novellas was intended to push back the boundaries of Doctor Who fiction, and feature books written by a range of established authors.

Each novella was available in two different editions: a standard hardback (UK retail price £10), and a limited-edition "deluxe" hardback (UK retail price £25), featuring unique frontispiece artwork and signed by the author & artist.

Unfortunately, after a couple of successful years, the BBC declined to renew Telos's licence to publish Doctor Who fiction, and hence the range of novellas came to an end in early 2004 after 15 books were published.

| | | |
| --- | --- | --- |
| | | |
Title:
By:
Dr:
Edition:
Date:
ISBN:
Owned:
Rating:
Reviews:
Time and Relative
Kim Newman
1st
UK standard hardback
Nov 2001
1-903889-02-2
8.2
UK limited hardback
Nov 2001
1-903889-03-0
Citadel of Dreams
Dave Stone
7th
UK standard hardback
Mar 2002
1-903889-04-9
5.9
UK limited hardback
Mar 2002
1-903889-05-7
Nightdreamers
Tom Arden
3rd
UK standard hardback
May 2002
1-903889-06-5
5
UK limited hardback
May 2002
1-903889-07-3
Ghost Ship
Keith Topping
4th
UK standard hardback
Aug 2002
1-903889-08-1
4.7
UK limited hardback
Aug 2002
1-903889-09-X
Foreign Devils
Andrew Cartmel
2nd
UK standard hardback
Nov 2002
1-903889-10-3
6.4
UK limited hardback
Nov 2002
1-903889-11-1
Rip Tide
Louise Cooper
8th
UK standard hardback
Feb 2003
1-903889-12-X
7.4
None
UK limited hardback
Feb 2003
1-903889-13-8
Wonderland
Mark Chadbourn
2nd
UK standard hardback
Apr 2003
1-903889-14-6
5.6
UK limited hardback
Apr 2003
1-903889-15-4
Shell Shock
Simon A. Forward
6th
UK standard hardback
Jun 2003
1-903889-16-2
7.1
UK limited hardback
Jun 2003
1-903889-17-0
The Cabinet of Light
Daniel O'Mahony
?
UK standard hardback
Jul 2003
1-903889-18-9
8
None
UK limited hardback
Jul 2003
1-903889-19-7
Fallen Gods
Jonathan Blum & Kate Orman
8th
UK standard hardback
Sep 2003
1-903889-20-0
6.8
None
UK limited hardback
Sep 2003
1-903889-21-9
The Eye of the Tyger
Paul McAuley
8th
UK standard hardback
Dec 2003
1-903889-24-3
7.1
UK limited hardback
Dec 2003
1-903889-25-1
UK 2nd limited hardback
Dec 2003
Unknown
Frayed
Tara Samms
1st
UK standard hardback
Dec 2003
1-903889-22-7
6.3
UK limited hardback
Dec 2003
1-903889-23-5
Ghost Ship
Keith Topping
4th
UK paperback
Dec 2003
1-903889-32-4
4.7
Foreign Devils
Andrew Cartmel
2nd
UK paperback
Dec 2003
1-903889-33-2
6.4
Companion Piece
Mike Tucker & Robert Perry
7th
UK standard hardback
Dec 2003
1-903889-26-X
5.9
None
UK limited hardback
Dec 2003
1-903889-27-8
Blood and Hope
Iain McLaughlin
5th
UK standard hardback
Feb 2004
1-903889-28-6
8
UK limited hardback
Feb 2004
1-903889-29-4
The Dalek Factor
Simon Clark
?
UK standard hardback
Mar 2004
1-903889-30-8
7.4
UK limited hardback
Mar 2004
1-903889-31-6



Active session = no / Cookie = no