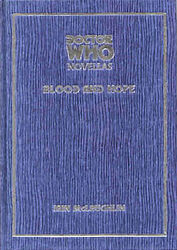 | | | |
| --- | --- | --- |
| | | |
| | Reviews for Blood and Hope | |
| | | |
There is 1 review so far. To add a review of your own for this item, visit the voting page.
| | | |
| --- | --- | --- |
| | | |
| | Doctor Who and the Civil War | |
| | | |
By:
David Layton, Los Angeles, United States
Date:
Thursday 22 November 2018
Rating:
8
This is a short novel featuring Doctor 5. "Blood and Hope" occupies the pure historical genre of Doctor Who stories, so has a place left vacant during the Peter Davison run on TV. This story also includes the character Erimem from the Big Finish audio series. The plot is fairly simple. The Doctor and companions land, immediately find themselves in trouble, get separated, and spend the rest of the story trying to reunite. In this case, they land at a farmhouse in the borderland between sides near the end of the American Civil War. The Doctor gets in trouble with a kind of jailbreak of some slaves, leaving Peri and Erimem to fend for themselves. The two have to pretend that Peri is a woman displaced by the war, and that Erimem is her slave. They run afoul of mad Confederate Colonel Jubal Eustace, who goes on a vendetta against them. Meanwhile, The Doctor has been forced into service as a surgeon for the Union army. Simple as the plot is, McLaughlin complicates the story and makes it more interesting by writing this as an epistolary novel. The main "narrators," therefore, are a Union officer named Will Johnson, writing letters home to his sweetheart about his search for his cousin, Paul le Val, who is forced into service for the Confederacy, and Peri, who is dictating a kind of personal confession of some action she does not want to admit to. There are a few other writers, plus some extracts of historical documents, but most of the narrating is from these two perspectives. This means that The Doctor is pretty much a side character, seen only in how his actions affect other characters. The novel is not "about" The Doctor all that much. Instead, it is about the psychological effects of war on Peri, Will, Paul, and Jubal. In that regard, the novel is fairly accurate, and McLaughlin does not overplay either the "you should be horrified" angle, or the sympathy angle. The plot does proceed by an abundance of remarkable coincidences, which seems to me a bit of lazy plotting. Overall, it is an interesting and worthwhile read.