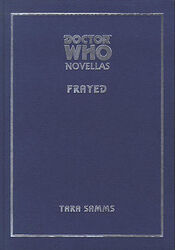 Edition:
UK (standard hardback)
Released:
December 2003

Publisher:
Telos
ISBN:
1-903889-22-7
Format:
hardback
Owned:
Buy:
Cover blurb:
None.
Synopsis:
"I like to stare into the sun, eyes wide. It burns incredible colours into my head, great shifting continents of them that blot out all else. And I try to keep looking until I imagine all the pretty blue has boiled away from my eyes and they are left a bright, bloody red and quite sightless."
On a blasted world, the Doctor and Susan find themselves in the middle of a war they cannot understand. With Susan missing and the Doctor captured, who will save the people from the enemies from both outside and within?