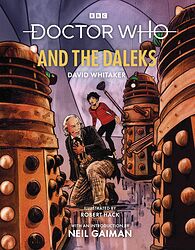 Edition:
UK (illustrated hardback)
Released:
November 2022

Publisher:
BBC Books
ISBN:
978-1-78594-801-5
Format:
hardback
Owned:
Buy:

| | | |
| --- | --- | --- |
| | | (Unable to fetch price) |
Note: Illustrated edition, featuring all-new art by Robert Hack and an introduction by Neil Gaiman. An illustrated edition of Rose followed in 2023.
Cover blurb:
'THE VOICE WAS ALL ON ONE LEVEL, WITHOUT ANY EXPRESSION AT ALL, A DULL MONOTONE THAT STILL MANAGED TO CONVEY A TERRIBLE SENSE OF EVIL...'

Inside cover flaps read as follows:
The mysterious Doctor and his granddaughter Susan are joined by unwilling adventurers Ian Chesterton and Barbara Wright in an epic struggle for survival on an alien planet.
In a vast metal city they discover the survivors of a terrible nuclear war — the Daleks. Held captive in the deepest levels of the city, can the Doctor and his new companions stop the Daleks' plan to totally exterminate their mortal enemies, the peace-loving Thals?
Even if they can escape from the Daleks, will Ian and Barbara ever see their home planet Earth again?

This novel is based on the second Doctor Who story which was originally broadcast from 21 December 1963 - 1 February 1964.
This was the first ever Doctor Who novel, originally published in 1964.
This beautifully illustrated new edition brings the story to life as it has never been seen before.
Featuring the First Doctor as played by WILLIAM HARTNELL, and his companions Susan, Ian and Barbara.

DAVID WHITAKER was the first Story Editor for Doctor Who, and was responsible for finding and commissioning writers. It was Whitaker as much as anyone who defined the narrative shape of Doctor Who. He wrote for the Doctor Who annuals, novelised TV stories and worked with Dalek creator Terry Nation on various Dalek-related material. David Whitaker died in 1980.
ROBERT HACK has been drawing Doctor Who art since he was 5 years old and professionally since 2008, when he began creating cover art for Doctor Who comics. Robert is also the artist of the hit horror comic Chilling Adventures of Sabrina, and painted the opening titles for the Netflix adaptation of the same name. His modern pulp aesthetic has been applied to Archie Comics, Star Wars, X-Files, Army of Darkness, Elvira, James Bond, Dirk Gently, Mars Attacks, Sherlock, Goosebumps, Blade Runner, Stranger Things and more.
NEIL GAIMAN is the author of the Hugo and Nebula Award-winning novel American Gods, as well as Neverwhere, Stardust and Good Omens (with Terry Pratchett). He wrote the Doctor Who episode 'The Doctor's Wife' and the TV series Good Omens.