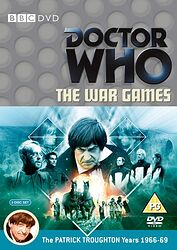 Edition:
UK (DVD)
Released:
July 2009

Publisher:
BBC Video
Format:
3 x DVD
Owned:
Buy:
Note: Details of the restoration process and DVD extras can be found at the Restoration Team Web site.
Cover blurb:
The TARDIS has materialised in a world of trench warfare, barbed wire and poison gas: the Western front, 1917. In the chaos and paranoia of the First World War, the Doctor and his companions are separated from their ship, captured and court-martialled. The death sentence swiftly pronounced.
But all is not as it seems. As the Doctor finds himself increasingly out of his depth and facing impossible odds, the only solution is the truly unthinkable. He must seek help from those he most fears — his own people, the Time Lords...
SPECIAL FEATURES
Commentary by Frazer Hines (Jamie), Wendy Padbury (Zoe), Philip Madoc (The War Lord), Jane Sherwin (Lady Jennifer), Graham Weston (Russell), writer Terrance Dicks and producer Derrick Sherwin
War Zone The making of The War Games
Shades of Grey A look back at black-and-white Doctor Who
Now and Then The locations of The War Games, forty years on
The Doctor's Composer Dudley Simpson discusses his first five years on Doctor Who
Sylvia James - In Conversation Make-up designer Sylvia James talks about her work on Doctor Who
Talking About Regeneration The Doctor's many lives discussed
Stripped for Action A look at the comic strip adventures of the Second Doctor
On Target - Malcolm Hulke A profile of the popular Doctor Who author and his novelisations
Devious A look at the legendary fan production
Photo Gallery
Coming Soon Trailer
PDF Material
Production Information Subtitles
Digitally remastered picture and sound quality
Easter Eggs
This story was originally broadcast on BBC1 between 19th April - 21st June 1969