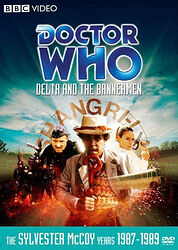 Edition:
US (DVD)
Released:
September 2009

Publisher:
BBC Video
Format:
2 x DVD
Owned:
Buy:
Note: Yes, the extras list really does say "Disc one" even though this is a single-disc release — a simple case of human error or was this originally meant to be part of a multi-disc set?
Cover blurb:
The time: 1959. The place: the Shangri-La Holiday Camp. The Doctor and Mel want time out. The hedonistic alien Navarinos wants to catch some vintage rock and roll. And two CIA agents want to know what happened to their country's missing satellite.
When the beautiful Chimeron princess Delta shows up on the scene, the murderous Bannermen soon follow in hot pursuit. The stage is set for a fiery showdown that will decide the fate of an entire civilization.
DVD EXTRAS INCLUDE:
DISC ONE
Audio Commentary by actors Sylvester McCoy (the Doctor) and Sara Griffiths (Ray), director Chris Clough and script editor Andrew Cartmel
But First This Andi Peters hosts a location feature with the cast (6 mins)
Interview rushes from But First This with Sylvester McCoy, Bonnie Langford (Mel) and Ken Dodd (Tollmaster) (16 mins)
Wales Today BBC Wales news report on the making of the program (2 mins)
Episode 1 — first edit (30 mins)
Hugh and Us Interview with Hugh Lloyd (Goronwy) (7 mins)
Clown Court Outtakes with Sylvester McCoy on The Noel Edmonds Saturday Roadshow (5 mins)
Stripped for Action — The Seventh Doctor Comic strip retrospective (21 mins)
Trails and Continuity (3 mins)
Photo Gallery (8 mins)
Radio Times Listings (PDF DVD-ROM)
Production Note Subtitles
Digitally remastered picture and sound quality
Originally transmitted in [sic] November 2-16, 1987