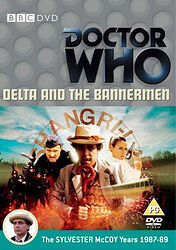 | | | |
| --- | --- | --- |
| | | |
| | Reviews for Delta and the Bannermen | |
| | | |
There are 4 reviews so far. To add a review of your own for this item, visit the voting page.
By:
Trevor Smith, Nottingham, United Kingdom
Date:
Thursday 23 July 2009
Rating:
7
This story often gets an unfair kicking from fans but for me it is a very enjoyable story.
Sure its not perfect but there are lots of good things about it.
Don Henderson as the main baddie Gavrock is excellent as is Belinda Mayne as Delta. I think she would have made a much better companion than Sara Griffiths (who played Ray) who was up for the part before Bonnie Langford changed her mind and stayed on. Even Ken Dodd (in a mercifully short role) isn't that bad.
There are some very good comic scenes as well.
The extras aren't much apart from the always interesting & excellent Stripped for Action.
By:
,
Date:
Sunday 13 September 2009
Rating:
2
Never mind what people say about Colin Baker's The Twin Dilemma, I think this is the worst ever DW story. Ridiculous plot, poor directing, bad acting and special effects and awful music and looks (not the transfer but the original looks!). No wonder they cancelled it not long after that. I can't wait for better Sylvester McCoy stories like Dragonfire or Greatest Show In The Galaxy to come out on DVD to erase this from my mind!!!
By:
Ruby Simkin, Perth, Australia
Date:
Thursday 21 January 2010
Rating:
9
I think Delta and the Bannerman was great! My favourite character is Ray because she would have been a better companion then Mel ever would! I think all the characters did a great job and played there parts well, it is one of my favourites Doctor Who stories. So I rate it: 9/10.

By:
Matthew David Rabjohns, Bridgend, United Kingdom
Date:
Wednesday 30 March 2011
Rating:
10
This is very different form of Doctor Who. I cant actually really point afinger to what makes it so good for me, the whole thing just comes together so very nicely indeed. So Im not sure if its Ken Dodd in his memorable cameo as the Toll Master, or the original ending where the young princess disables the Bannermen with her vocal performance. Or whether its those brilliant american guys...they add such comedy and light relief to the harder moments of the script, such as the shock murder of all on the space bus. Sylvester McCoy is really making himself at home in the role of the Doctor. And I still love Bonnie Langford to this day. And Sara Griffiths is totally brilliant and camp as Ray, and she would have made a brilliant companion. This is nearer to the best Doctor Who story than the worst as Ive found is often the case with mny wrongly maligned stories in the history of Doctor Who. And that first shot of the baby Chimmeron is excellently done. Don Henderson just completes the story with his totally nasty Gavrok. This really is a welcome relief as its such a different kind of Doctor Who tale. The effects are all rather good, with only the
blobby navarino letting the side down, but that can be forgiven as its only shown for seconds. (And maybe that washing up liduid bottle space satellite! But aside from this this stoy is very strikingly different and is a welcome addition to the series on dvd.