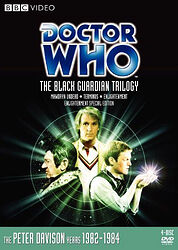 Edition:
US (DVD)
Released:
November 2009

Publisher:
BBC Video
Format:
4 x DVD
Owned:
Buy:
Cover blurb:
Turlough arrives, Nyssa departs and the Black Guardian returns to wreak his revenge in these three classic adventures!
Mawdryn Undead — (4 eps, 98 mins)
Turlough may look like a normal pupil at a boys' boarding school, but he's actually an alien in a deadly pact with the Black Guardian.
Terminus — (4 eps, 98 mins)
Still acting for the Black Guardian, Turlough sabotages the TARDIS and triggers a chain of events that may mean the end of the universe.
Enlightenment — (4 eps, 98 mins)
The Doctor and his companions find themselves on an Edwardian sailing yacht in a mysterious and deadly race.
DVD EXTRAS INCLUDE:
Commentary by actors Peter Davison, Mark Strickson, Nicholas Courtney and Sarah Sutton, writers Stephen Gallagher and Barbara Clegg, script editor Eric Saward and director Fiona Cumming
Who Wants to Live Forever? Making of Mawdryn Undead (24 mins)
Liberty Hall (7 mins)
Deleted and Extend [sic] Scenes (5 mins)
Film Trims (8 mins)
Outtakes (5 mins)
Breaking Point Making of Terminus (22 mins)
Origins of the Universe (6 mins)
Winner Takes All Making of Enlightenment (24 mins)
New Feature Length Edit of Enlightenment featuring 5.1 Surround Sound and new CGI effects (75 mins)
The Story of the Guardians (12 mins)
Finding Mark Strickson (8 mins)
Finding Sarah Sutton (8 mins)
Continuity
Isolated Music
DVD-ROM material
Photo Galleries
Production Note Subtitles
Digitally remastered picture and sound quality
Originally transmitted February 1 - March 9, 1983