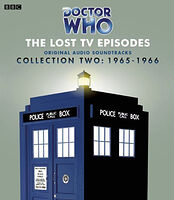 | | | |
| --- | --- | --- |
| | | |
| | Lost TV Episodes audio box sets | |
| | | |
A range of CD box sets collecting previously-released audio recordings of lost Doctor Who TV episodes.

Five such box sets were produced between 2010 and 2012, covering all of the then-lost Hartnell and Troughton episodes, followed by a 6th volume in 2013 which dropped the word "Lost" from the title as it gathered a selection of surviving stories on CD.

The first 5 volumes in particular went out of print relatively quickly and hence became much sought-after collector's items (the bankruptcy of AudioGO in 2013 no doubt contributed to this since it ruled out any new pressings).

The new owners of the BBC Audio range began a reissue of these box sets in 2019.

Also worthy of mention are three similar and related releases: Classic TV Adventures Collection One and Collection Two from 2017, which again were box sets of previously-released TV audio soundtracks, but this time drawn from the Third, Fourth and Fifth Doctor eras (so like The TV Episodes Collection Six they were "non-missing" stories). Finally, the similarly-designed box set The BBC Radio Episodes from 2011, which collects the various Doctor Who audio dramas produced during the 70s, 80s and early 90s.

| | | |
| --- | --- | --- |
| | | |
No:
Title:
Starring:
By:
Edition:
Date:
ISBN:
Owned:
Rating:
Reviews:
1
The Lost TV Episodes: Collection One - 1964-1965
William Hartnell, Carole Ann Ford, William Russell & Jacqueline Hill
John Lucarotti, Dennis Spooner, David Whitaker & William Emms
UK 1st CD
Aug 2010
978-1-4084-6751-0
9.5
UK 2nd CD
Mar 2019
978-1-78753-523-7
2
The Lost TV Episodes: Collection Two - 1965-1966
William Hartnell, Peter Purves, Adrienne Hill & Nicholas Courtney
Terry Nation, Dennis Spooner, John Lucarotti & Donald Tosh
UK 1st CD
Feb 2011
978-1-4084-6752-7
9.4
None
UK 2nd CD
Aug 2019
978-1-78753-750-7
3
The Lost TV Episodes: Collection Three - 1966-1967
William Hartnell, Patrick Troughton, Michael Craze & Anneke Wills
Brian Hayles, Kit Pedler, Gerry Davis & David Whitaker
UK 1st CD
Aug 2011
978-1-4084-6753-4
10
UK 2nd CD
Mar 2020
978-1-78753-986-0
4
The Lost TV Episodes: Collection Four - 1967
Patrick Troughton, Anneke Wills, Michael Craze & Frazer Hines
Ian Stuart Black, Malcolm Hulke, David Ellis & David Whitaker
UK 1st CD
Feb 2012
978-1-4084-6754-1
None
None
UK 2nd CD
Nov 2020
978-1-5291-2950-2
5
The Lost TV Episodes: Collection Five - 1967-1969
Patrick Troughton, Frazer Hines, Deborah Watling & Nicholas Courtney
David Whitaker, Mervyn Haisman, Henry Lincoln & Victor Pemberton
UK 1st CD
Aug 2012
978-1-4084-6755-8
None
None
UK 2nd CD
May 2021
978-1-5291-3828-3
6
The TV Episodes: Collection Six
William Hartnell, Carole Ann Ford, William Russell & Jacqueline Hill
Peter R. Newman, Dennis Spooner, Glyn Jones & Paul Erickson
n/a
Sep 2013
978-1-4713-4487-9
None
None



Active session = no / Cookie = no