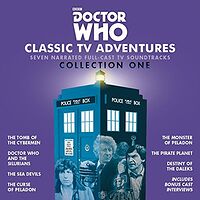 Note: Similar to the Lost TV Episodes releases, this is a CD box set of previously-released TV soundtrack audios. Contains The Tomb of the Cybermen (narrated by Frazer Hines), Doctor Who and the Silurians (narrated by Caroline John), The Sea Devils (narrated by Katy Manning), The Curse of Peladon (narrated by Katy Manning), The Monster of Peladon (narrated by Elisabeth Sladen), The Pirate Planet (narrated by John Leeson) and Destiny of the Daleks (narrated by Lalla Ward). Also includes the same bonus interviews with the narrators as on those previous CD releases. Followed by Collection Two.
Cover blurb:
Patrick Troughton, Jon Pertwee and Tom Baker star as the Doctor in these narrated full-cast TV soundtracks of classic Doctor Who TV serials
These seven soundtracks are enhanced with linking narration by Frazer Hines, Caroline John, Katy Manning, Elisabeth Sladen, John Leeson and Lalla Ward, all of whom recall their time on Doctor Who in a series of bonus interviews.
THE TOMB OF THE CYBERMEN
(First broadcast September 1967)
On Telos, a party of archaeologists uncover the mythical tomb of the Cybermen.
DOCTOR WHO AND THE SILURIANS
(First broadcast January-March 1971)
A group of intelligent, indigenous reptiles is awoken and they believe Earth to still be their planet.
THE SEA DEVILS
(First broadcast February-April 1972)
The Silurians' amphibian cousins are revived from hibernation beneath the ocean — thanks to the Master.
THE CURSE OF PELADON
(First broadcast January-February 1972)
The Doctor and Jo are mistaken for Galactic Federation delegates on the planet of Peladon.
THE MONSTER OF PELADON
(First broadcast March-April 1974)
The Doctor finds that trouble still lurks in the tunnels of Peladon — as do some very familiar enemies.
THE PIRATE PLANET
(First broadcast September-October 1978)
The Doctor becomes entangled in a struggle between the apparently insane Captain and the sinister Mentiads.
DESTINY OF THE DALEKS
(First broadcast September 1979)
On Skaro, the Doctor encounters the militaristic Movellans, who are there on a top secret mission.
PLUS a PDF booklet featuring full cast, credits and production notes.