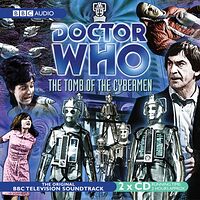 Edition:
UK (CD)
Released:
May 2006

Publisher:
BBC Audio
ISBN:
1-84607-046-5
Format:
2 x CD
Owned:
Buy:
Note: Linking narration by Frazer Hines. Subsequently re-released as part of the Classic TV Adventures: Collection One box set.
Cover blurb:
Patrick Troughton faces the dreaded Cybermen in the digitally remastered soundtrack of a classic BBC TV story, with linking narration by Frazer Hines
"You will be like us..."
On the planet Telos, the Doctor and his friends encounter a party of archaeologists intent on uncovering the mythical 'tomb of the Cybermen'. Only the Doctor seems aware of the folly of this venture, but suddenly it's too late — the ice tombs are open, and the Cybermen are coming back to life...
Trapped underground with the Cyber Controller and his acolytes, including the vermin-like Cybermats, the Doctor and company learn that they are to be turned into a new generation of Cybermen. To make matters worse, there is treachery and double-crossing amongst the humans.
Can the Cyber menace be made dormant before it spreads out to the galaxy once again — and will the Doctor, Jamie and Victoria escape with their lives?
Frazer Hines, who played Jamie in these four BBC TV episodes from 1967, provides linking narration for the story. In a bonus interview, he also recalls the making of The Tomb of the Cybermen.