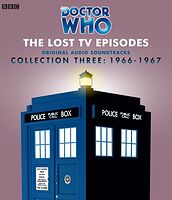 Edition:
UK (1st CD)
Released:
August 2011

Publisher:
BBC Audio
ISBN:
978-1-4084-6753-4
Format:
13 x CD
Owned:
Buy:

| | | |
| --- | --- | --- |
| | | (Not currently available) |

New:
$250.51
Used:
$108.94

New:
$332.50
Used:
$127.58
Cover blurb:
Six Doctor Who adventures starring William Hartnell and Patrick Troughton as the First and Second Doctors — plus extra bonus material
Absent from the TV archives, these stories survive only as soundtrack recordings. Now remastered, with additional linking narration, you can enjoy them once again: plus bonus interviews with Anneke Wills and the BBC Radio 3 programme Dance of the Daleks.
THE SMUGGLERS
(First broadcast September-October 1966)
The TARDIS arrives in 17th-century Cornwall for an adventure with pirates and hidden treasure.
THE TENTH PLANET
(First broadcast October 1966)
Earth's twin planet enters the solar system and brings with it the Cybermen...
THE POWER OF THE DALEKS
(First broadcast November-December 1966)
The First Doctor becomes the Second, and must fight the Daleks on the swamp planet Vulcan.
THE HIGHLANDERS
(First broadcast December 1966-January 1967)
The time travellers arrive in Scotland after the battle of Culloden, and meet a young piper named Jamie...
THE UNDERWATER MENACE
(First broadcast January-February 1967)
The TARDIS arrives on an extinct volcanic island, beneath which lies the long-lost city of Atlantis...
THE MOONBASE
(First broadcast February-March 1967)
The Moon, 2070 AD. A weather control station is in the grip of plague — caused by the Cybermen...
DANCE OF THE DALEKS
(First broadcast on BBC Radio 3 July 2010)
Matthew Sweet time-travels through Doctor Who's 47-year history to investigate the weird and wonderful sound world of its incidental music.
PLUS
Linking narration by Anneke Wills and Frazer Hines
Bonus interviews with Anneke Wills
High quality scans, presented as PDF files, of the original BBC TV camera scripts