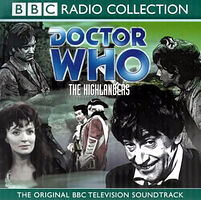 Note: This is an audio soundtrack of the TV story, with linking narration. Not to be confused with the novel reading of the same story released in 2012. Subsequently re-released as part of the Adventures in History and The Lost TV Episodes: Collection Three box sets (the latter was a remastered re-release).
Cover blurb:
FRAZER HINES PROVIDES THE LINKING NARRATION FOR THE DIGITALLY REMASTERED SOUNDTRACK OF THE 'LOST' TELEVISION ADVENTURE IN WHICH HE MADE HIS FIRST APPEARANCE AS JAMIE
Scotland, 1745. The Doctor, Ben and Polly arrive in Scotland after the Battle of Culloden and meet a band of Highlanders who are fleeing in defeat. Their Laird is injured and the three offer to help tend his injuries. Polly and Kirsty McLaren, the Laird's daughter, (played in a guest appearance by Hannah Gordon) go to fetch some water but whilst they are gone the others are captured by Redcoat troops.
Things become worse when the group is taken again — this time by the crooked Solicitor Grey, who is part of the West Indian slave trade. The prisoners, Ben amongst them, are bundled on board the Annabelle where the wicked Captain Trask issues dire threats of drowning.
Meanwhile the Doctor is on dry land confusing all and sundry in a variety of disguises. However, his bumbling manner hides a sharp brain and eventually he, Polly and Ben are reunited in the TARDIS together with young piper Jamie McCrimmon, who went on to become one of the most popular companions of the series.