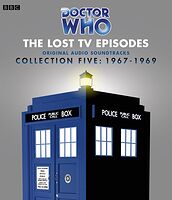 Edition:
UK (1st CD)
Released:
August 2012

Publisher:
BBC Audio
ISBN:
978-1-4084-6755-8
Format:
14 x CD
Owned:
Buy:
Cover blurb:
Six Doctor Who adventures starring Patrick Troughton as the Second Doctor — plus extra bonus material
Absent from the TV archives, these stories survive only as soundtrack recordings. Now remastered, with additional linking narration, you can enjoy them once again: plus bonus interviews with Wendy Padbury and Frazer Hines, and PDF files of the original scripts.
THE ENEMY OF THE WORLD
(First broadcast December 1967-January 1968)
The time travellers land in Australia in the near future — and meet the Doctor's murderous double...
THE WEB OF FEAR
(First broadcast February-March 1968)
The TARDIS arrives in the London Underground, only to find the tunnels are overrun by Yeti...
FURY FROM THE DEEP
(First broadcast March-April 1968)
The TARDIS brings the Doctor and friends to the South Coast, where something nasty is lurking in the gas pipelines of the North Sea.
THE WHEEL IN SPACE
(First broadcast April-June 1968)
The Doctor and Jamie confront some old adversaries on the Wheel space station.
THE INVASION
(First broadcast November-December 1968)
The TARDIS materialises in London, where the Doctor and friends battle to defeat the Cybermen and prevent them from invading Earth.
THE SPACE PIRATES
(First broadcast March-April 1969)
The TARDIS crew become victims of piracy, bringing them into contact with both the Interstellar Space Corps and a gang of murderous bandits...
PLUS
Linking narration by Frazer Hines and Wendy Padbury
Bonus interviews with Wendy Padbury and Frazer Hines
High quality scans, presented as PDF files, of the original BBC TV camera scripts