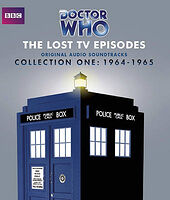 Edition:
UK (1st CD)
Released:
August 2010

Publisher:
BBC Audio
ISBN:
978-1-4084-6751-0
Format:
12 x CD
Owned:
Buy:

| | | |
| --- | --- | --- |
| | | (Unable to fetch price) |

| | | |
| --- | --- | --- |
| | | (Unable to fetch price) |
Cover blurb:
Let the TARDIS take you back to the early days of Doctor Who with these five thrilling adventures starring William Hartnell as the first Doctor
Absent from the television archives, each of these stories survives only as a soundtrack recording. Now remastered, with additional linking narration, the adventures can be enjoyed once more.
MARCO POLO
(First broadcast February-March 1964)
In Central Asia, 1289, the explorer Marco Polo plans to give the TARDIS to Kublai Khan. The Doctor and his companions must somehow win back their only means to escape this moment in history...
THE REIGN OF TERROR
(First broadcast August-September 1964)
With the French Revolution in full swing, the Doctor and friends find themselves caught up in the bloody events as they struggle to stay alive and find their individual ways back to the TARDIS.
THE CRUSADE
(First broadcast March-April 1965)
The TARDIS materialises in the middle of a holy war between Richard the Lionheart and the Saracen Saladin, in 12th Century Palestine. Intrigue and danger ensue for the time travelling companions.
GALAXY 4
(First broadcast September-October 1965)
On a seemingly desolate planet, one day away from destruction, the Doctor and company discover the Drahvins, a race of stunning beauty, and the hideous Rills. But appearances can be deceptive...
THE MYTH MAKERS
(First broadcast October-November 1965)
On the plains of Asia Minor, the Doctor is hailed as the Greek god Zeus. Separated from his friends, and forced to help defeat the Trojans, he comes up with the idea of a wooden horse...
PLUS
Linking narration by William Russell, Carole Ann Ford and Peter Purves
Bonus cast interviews
High quality scans, presented as PDF files, of the original BBC TV camera scripts