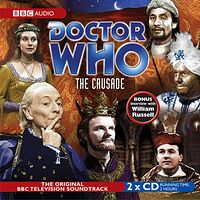 Note: Contains a newly-recorded 20 minute interview with William Russell, who also provides the fill-in narration. Subsequently remastered and re-released as part of The Lost TV Episodes: Volume One box set.
Cover blurb:
The Doctor and his companions encounter King Richard the Lionheart in this classic remastered soundtrack adventure with linking narration by William Russell
'History must take its course...'
The TARDIS materialises in the middle of a holy war between King Richard the Lionheart and the Saracen leader, Saladin, in 12th Century Palestine. As the Doctor, Vicki, Ian and Barbara explore their surroundings, they are suddenly caught up in a Saracen ambush — and Barbara is kidnapped.
For the time travellers, intrigue and espionage ensue as they once again become involved in living history. A newly-knighted "Sir Ian of Jaffa" makes haste to find and rescue Barbara, whilst the Doctor finds it difficult to stay out of trouble in the court of the King...
This classic adventure, only two episodes of which survive in the BBC film archive, stars William Hartnell as the Doctor, William Russell as Ian, Jacqueline Hill as Barbara, and Maureen O'Brien as Vicki. Amongst the guest cast are Julian Glover as Richard, with Jean Marsh as his sister Joanna.
This CD release also features William Russell re-living his memories of recording the television serial.