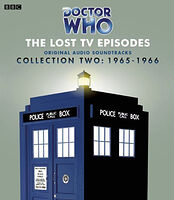 Edition:
UK (1st CD)
Released:
February 2011

Publisher:
BBC Audio
ISBN:
978-1-4084-6752-7
Format:
12 x CD
Owned:
Buy:
Note: The first pressing of this box set was missing the PDF camera scripts, but this was rectified with subsequent pressings.
Cover blurb:
Travel back to the early days of Doctor Who with these four adventures starring William Hartnell as the first Doctor — plus a bonus programme
Absent from the television archives, each of these stories survives only as a soundtrack recording. Now remastered, with additional linking narration, you can enjoy the adventures once more — and learn what happened to the missing episodes with a special bonus disc.
THE DALEKS' MASTER PLAN
(First broadcast October 1965-January 1966)
The Daleks have stolen the Time Destructor, and are threatening to destroy the fabric of Time itself. Pursued across Time and Space for the taranium core, the TARDIS crew are in grave danger...
THE MASSACRE
(First broadcast February 1966)
The TARDIS materialises in Paris, 1572, a time of danger and religious strife. When Steven witnesses an execution, he is horrified. Can the Doctor really have been killed in front of his eyes?
THE CELESTIAL TOYMAKER
(First broadcast April 1966)
The travellers arrive in the domain of the Toymaker, where failure to win at a series of games could result in them becoming his playthings for eternity.
THE SAVAGES
(First broadcast May-June 1966)
The TARDIS has arrived on a distant and seemingly idyllic world, but the Doctor, Steven and Dodo discover that it hides a terrible secret...
DOCTOR WHO — THE LOST EPISODES
(First broadcast December 2009)
What happened to the 108 missing episodes of Doctor Who from the 1960s? Shaun Ley investigates in this edition of Archive on 4.
PLUS
Linking narration by Peter Purves
Bonus interviews with Peter Purves
High quality scans, presented as PDF files, of the original BBC TV camera scripts