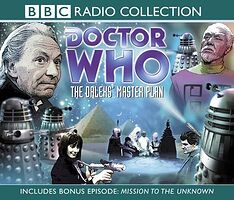 Edition:
UK (CD)
Released:
October 2001

Publisher:
BBC Audio
ISBN:
0-563-53500-8
Format:
5 x CD
Owned:
Buy:
Note: Also includes bonus data content on one of the CDs: the un-narrated episodes in MP3 format, the full script in PDF format, and before-and-after restoration samples.
Cover blurb:
THE DALEKS THREATEN TO DESTROY THE FABRIC OF TIME ITSELF IN THIS EXCLUSIVE RECORDING OF AN EPIC 'LOST' ADVENTURE, STARRING WILLIAM HARTNELL WITH LINKING NARRATION BY PETER PURVES
'We at this table pledge our allegiance to the Dalek cause. Our armies will reduce the galaxies to ashes, their people to dust. And Earth we will conquer first!'
In their quest to gain control of the Solar System, the Daleks have taken posession of the Time Destructor, a weapon which threatens the safety of all who stand in their way. They have formed an alliance with the Outer Galaxies, all of them bent on destroying the human race, and called a council of delegates to their base on the planet Kembel. In their midst is none other than Mavic Chen, treacherous Guardian of the Solar System.
When the Doctor learns the extent of the Daleks' plan, he steals the taranium core which powers the weapon — without it their conquest cannot begin. Together with two agents of the 41st Century's Space Security Service, the TARDIS crew is pursued across volcanos and deserts, through jungles and futuristic cities, and to London, Egypt and even Hollywood. As the Daleks close in and the stakes become progressively higher, allies and enemies are won and lost. Shockingly, not all of the Doctor's companions will escape with their lives...
Also included in this release is Mission To The Unknown, a single episode 'teaser' which sets the scene for the incredible twelve-part adventure.