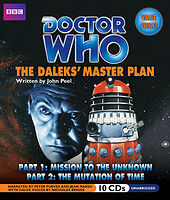 Note: US-released box set of the two previously-released audios Mission to the Unknown and The Mutation of Time. Not to be confused with the TV audio soundtrack of the same story, originally released in 2001.
Cover blurb:
No cover information available yet.
Help wanted! Do you own this item? Please help make this site more complete by emailing me details of the back cover blurb. Thanks!