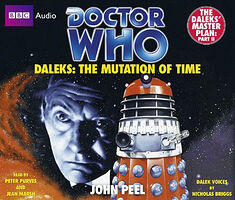 Note: Audio reading of John Peel's 1989 novelisation, which was the second half of the epic The Daleks' Master Plan storyline — the first half was covered in previous release Mission to the Unknown. Both audios were subsequently released together in a box set, and as part of the Dalek Menace collection.
Cover blurb:
Peter Purves and Jean Marsh read this exciting novelisation of a classic Doctor Who adventure, with Dalek voices by Nicholas Briggs
The Daleks' Masterplan is well underway. With the Time Destroyer, the most deadly machine ever devised, they will conquer the Universe. Only one person stands in their way — the Doctor. For he has stolen the precious Taranium core which is vital to activate the machine.
Travelling through Time and Space, the Doctor and his companions are forever on the move in case the Daleks track them down.
But after several months, to their horror, the TARDIS indicates that they are being followed...
This is the second of two novelisations written by John Peel and based on the TV serial The Daleks' Masterplan. The first book, Daleks: Mission to the Unknown, is also available from BBC Audiobooks.
'BBC Audiobooks has chosen well with its books and has taken the right approach with its readers... they benefit from new music and sound effects'
Doctor Who Magazine