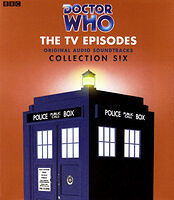 Description: CD box set containing the audio soundtracks to 6 Doctor Who TV stories from the 1960s, all of which had previously been released separately: The Sensorites, The Romans, The Space Museum, The Ark, The Gunfighters and The War Machines.
Cover blurb:
Six Doctor Who adventures starring William Hartnell as the First Doctor — plus extra bonus material
These classic soundtrack adventures, with additional linking narration, have all been remastered and include bonus interviews with William Russell, Maureen O'Brien, Peter Purves and Anneke Wills, as well as PDF files of the original scripts.
THE SENSORITES
(First broadcast June-August 1964)
The TARDIS arrives on board a spaceship in orbit around a planet called the Sense-Sphere. There the Doctor and friends meet the alien Sensorites...
THE ROMANS
(First broadcast January-February 1965)
In first-century Rome, Ian and Barbara are sold into slavery and the Doctor encounters Nero.
THE SPACE MUSEUM
(First broadcast April-May 1965)
When the TARDIS jumps a 'time track', the Doctor and friends see a terrible potential future...
THE ARK
(First broadcast March 1966)
In the distant future, the Doctor, Steven and Dodo come face-to-face with the last humans and their servants, the Monoids.
THE GUNFIGHTERS
(First broadcast April-May 1966)
1881, Tombstone. The Doctor's need for a dentist gets the TARDIS crew in trouble, as they try to avoid getting caught in the crossfire at the OK Corral...
THE WAR MACHINES
(First broadcast June-July 1966)
The TARDIS lands in London in 1966 — only to find that the brand new Post Office Tower is home to a monstrous supercomputer with plans to take over the world.
PLUS
Linking narration by William Russell, Maureen O'Brien, Peter Purves and Anneke Wills
Bonus interviews with the linking narrators
Bonus music segment in The Gunfighters
Plus bonus data disc containing high quality scans (where available), presented as PDF files, of the original BBC TV camera scripts