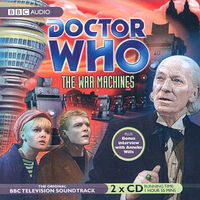 Note: Audio soundtrack of the 1966 William Hartnell TV story, with linking narration by Anneke Wills — not to be confused with the audiobook reading of the same story, released in 2019. Subsequently remastered and re-released as part of The TV Episodes: Collection Six box set.
Cover blurb:
The TARDIS lands in London in this classic TV soundtrack adventure, starring William Hartnell as the Doctor with linking narration by Anneke Wills
'There's something alien about that Tower...'
It's 1966, and London's brand new Post Office Tower looms over the Doctor and Dodo as they step from the TARDIS. When the Doctor meets Professor Brett, creator of a new, superintelligent computer called WOTAN, he is intrigued to hear of a plan to link all the major computers around the world.
But there is more to WOTAN than meets the eye: it secretly believes humans to be inferior to machines, and already has a number of Post Office Tower staff under hypnotic power. WOTAN is planning the widespeard construction of War Machines, large armoured computers bent on taking over the world!
With the help of two new companions — sailor Ben Jackson and Professor Brett's secretary Polly — the Doctor races against time to outwit the War Machines and break WOTAN's power. If he can't, then the end of humanity is in sight....
This remastered soundtrack of the original four-part BBC TV adventure is narrated by Anneke Wills, who plays Polly in the story. She also recalls her time in Doctor Who in a bonus interview.