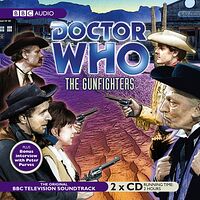 Description: Audio soundtrack to the 1966 Doctor Who TV story of the same name. Not to be confused with the novel reading of the same story released in 2013.
Cover blurb:
The TARDIS lands in the Wild West in this classic BBC TV soundtrack starring William Hartnell, with linking narration by Peter Purves
'So come, you coyotes, and howl at the moon
'til there's blood upon the sawdust in The Last Chance Saloon...'
It's 1881 and, in the Wild West settlement of Tombstone, there are three strangers in town: 'Doctor Caligari', 'Steven Regret', and 'Miss Dodo Dupont'. They've arrived in a 20th Century blue police box, and they're about to wander into a whole heap of trouble...
The Doctor is in need of a dentist, but the sort of anaesthetic Doc Holliday uses comes out of a liquor bottle. He's in the middle of a feud with the Clanton family, whilst Wyatt Earp and Bat Masterson try to keep the peace. This isn't the place for a relaxing holiday, as the Tardis crew soon discover...
Tombstone's not the most happily named of towns, and it seems it may live up to that name any day now. There's a gunfight at the OK Corral brewing and, if the Doctor and his friends aren't careful, they're going to be caught in the crossfire...
In a bonus interview, Peter Purves, who also narrates this remastered soundtrack, recalls the making of The Gunfighters for television.
A special 10-minute bonus music segment is also included.