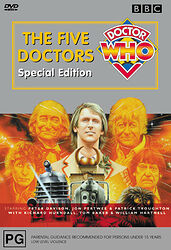 Edition:
Australia (standard DVD)
Title:
The Five Doctors: Special Edition
Released:
October 2000

Publisher:
BBC Video
Format:
1 x DVD
Owned:
Buy:
Note: See note above for the UK edition — despite this saying "Special Edition" on the cover, this is a bare-bones DVD and not to be confused with the 25th Anniversary Edition released in 2008, which really was a "special" edition (from a DVD point of view).
Cover blurb:
"I am being diminished, whittled away piece by piece. A man is the sum of his memories you know, a Time Lord even more so..."
Someone is taking the Doctor's past selves out of time and space, placing them in a vast wilderness — a battle arena with a sinister tower at its centre.
As the various incarnations of the Doctor join forces, they learn they are in the Death Zone on their home world of Gallifrey, fighting Daleks, Cybermen, Yeti... and a devious Time Lord traitor who is using the Doctor and his companions to discover the ancient secrets of Rassilon, the first and most powerful ruler of Gallifrey.
The Five Doctors was originally broadcast to celebrate the Twentieth Anniversary of Doctor Who in 1983. This new version of the story features extended scenes, previously unseen sequences, new visual effects and a stereo soundtrack. Not intended to replace the original edition of this story, this is an alternative version which uses state-of-the-art technology to embellish and enlarge one of the greatest Doctor Who adventures ever...
Extra feature: Bonus — 8 music tracks