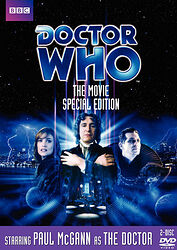 Edition:
US (DVD)
Title:
The Movie: Special Edition
Released:
February 2011

Publisher:
BBC Video
Format:
2 x DVD
Owned:
Buy:

| | | |
| --- | --- | --- |
| | | (Not currently available) |
Note: 2-disc edition, with same extras as released in the UK/Australia on the Revisitations 1 box set. This was the first ever commercial release of the Doctor Who movie in the US — it had never been released on VHS in the States due to rights issues (similar issues that prevented a North American DVD release in 2001).
Cover blurb:
The Doctor is returning home to Gallifrey with the remains of his arch-nemesis, the Master. Forced off course, the TARDIS arrives in San Francisco on New Year's Eve 1999, where the Doctor is critically wounded in a gangland gun battle. At the local hospital, Dr. Grace Holloway fights — and fails — to save his life.
Later, in the morgue, the Doctor wakes up a new man. But he is not the only one — the Master has also found himself a new body. As the clock counts down to the start of the new millennium, can the Doctor stop his oldest enemy from destroying all life on Earth?
DVD EXTRAS:
DISC 1:
Audio Commentary 1 by director Geoffrey Sax
Audio Commentary 2 by actors Paul McGann (Doctor 8) and Sylvester McCoy (Doctor 7), moderated by Nicholas Briggs
The Seven Year Hitch A look back at the long quest to return Doctor Who to the screen (54 mins)
The Doctor's Strange Love How fans learned to love Doctor Who — The Movie (17 mins)
Photo Gallery (3 mins)
Music Tracks
PDF materials: Radio Times Listings
Production Notes Subtitle Option
Digitally remastered picture and sound quality
DISC 2:
Behind the Scenes (5 mins)
Electronic Press Kit Short documentary and interview segments from 1996 (15 mins)
Philip Segal's Tour of the Tardis (2 mins)
Alternate Takes (1 min)
Who Peter 1989-2009 Second part of documentary on the relationship of Blue Peter with Doctor Who (26 mins)
VFX Tests June 1994 (1 min)
VFX March 1996 (2 mins)
The Wilderness Years How Doctor Who was kept alive between 1989 and 1996 (23 mins)
Stripped for Action — The Eighth Doctor (19 mins)
Tomorrow's Times — The Eighth Doctor Contemporary press coverage (11 mins)
BBC Trailers (1 min)
Originally transmitted May 14, 1996