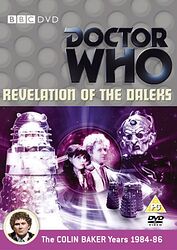 Edition:
UK (DVD)
Released:
July 2005

Publisher:
BBC Video
Format:
1 x DVD
Owned:
Buy:
Note: In July 2007, this DVD was one of 8 discs re-released in the UK with different cover artwork (in all cases, the discs and their contents were unchanged). The other DVDs which received the same treatment were Spearhead from Space, Genesis of the Daleks, The Hand of Fear, Earthshock, The Five Doctors, Remembrance of the Daleks and The Movie.
Cover blurb:
The Doctor and Peri arrive on the planet Necros, home of Tranquil Repose, a funeral home for the galaxy's elite. But is this the Doctor's own final resting place? And why do the Daleks guard the inner sanctums of the perpetually interred? Perhaps the Great Healer will have the answers...
Special Features
Commentary by Nicola Bryant (Peri), Terry Molloy (Davros), Eric Saward (Writer) and Graeme Harper (Director)
Revelation Exhumed The cast and crew of Revelation of the Daleks look back on the making of the story in this specially-made documentary
CGI Effects The option to watch this story with some of the original effects replaced with new CGI versions
In Studio A 15-minute look behind the scenes showing re-takes, fluffs and the working pattern of a BBC studio
Deleted Scenes Three short scenes excised from the finished story
Optional Dolby Digital 5.1 Surround Mix A new surround mix created especially for this DVD
Music-only Option Listen to Roger Limb's music score on an isolated soundtrack
Continuity Announcements
Photo Gallery
Production Subtitles
Digitally remastered picture and sound quality
This story was originally broadcast on BBC1 between 23rd - 30th March 1985.
Due to contractual and clearance reasons certain music edits have been made to Part Two