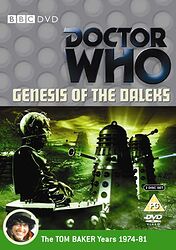 Edition:
UK (DVD)
Released:
April 2006

Publisher:
BBC Video
Format:
2 x DVD
Owned:
Buy:
Note: In July 2007, this DVD was one of 8 discs re-released in the UK with different cover artwork (in all cases, the discs and their contents were unchanged). The other DVDs which received the same treatment were Spearhead from Space, The Hand of Fear, Earthshock, The Five Doctors, Revelation of the Daleks, Remembrance of the Daleks and The Movie.
Cover blurb:
The Doctor's own people — the Time Lords — have foreseen a time in which the Daleks dominate all other lifeforms in the universe. So disturbing is this possibility, that they break their own Laws of Time in an attempt to change the future. And who better to send on this quest than their own renegade number — the Doctor.
Unwillingly transported into the fields and trenches of a battle-exhausted Skaro, the Doctor must face his most dangerous mission ever — to prevent the Daleks from ever being created.
Special Features
Commentary by Tom Baker (The Doctor) Elisabeth Sladen (Sarah Jane Smith), Peter Miles (Nyder) and David Maloney (Director)
Genesis of a Classic A special 62-minute documentary, looking at the making of Genesis of the Daleks with contributions from many of the cast and crew of the story
The Dalek Tapes A 55-minute feature, which tells the story of Doctor Who's most iconic villains, as well as providing a history of the 'classic series' Dalek stories
Continuity Compilation A selection of off-air continuity announcements
Blue Peter An item from 1975 looking at a collection of Doctor Who models built by a viewer
Radio Times Billings Illustrations, articles and listings from Radio Times (DVD-ROM PC / Mac)
The Doctor Who Annual 1976 (DVD-ROM)
Photo Gallery
Production Subtitles
Digitally remastered picture and sound quality
This story was originally broadcast on BBC1 between 8th March - 12th April 1975