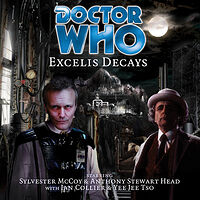 A standalone mini-series of audio dramas from 2002, featuring the Fifth, Sixth and Seventh Doctors.

These are notable for a couple of reasons: as the first standalone Doctor Who dramas released by Big Finish outside of their Monthly Adventures range; and also as the first audio appearance of the eccentric Time Lady character Iris Wildthyme, played by Katy Manning, who subsequently went on to star in her own range of audios and books.

Also connected to this trilogy (though not listed on this page) is the Bernice Summerfield audio The Plague Herds of Excelis. Meanwhile, the music soundtrack from these dramas was also released in 2002 as Music from the Excelis Audio Adventures.

Title:
Starring:
By:
Date:
ISBN:
Owned:
Rating:
Reviews:
Excelis Dawns
Peter Davison, Katy Manning & Anthony Stewart Head
Paul Magrs
Feb 2002
1-903654-63-7
7.5
Excelis Rising
Colin Baker & Anthony Stewart Head
David A. McIntee
Apr 2002
1-903654-64-5
6.2
Excelis Decays
Sylvester McCoy, Anthony Stewart Head, Ian Collier & Yee Jee Tso
Craig Hinton
Jun 2002
1-903654-65-3
5.6



Active session = no / Cookie = no