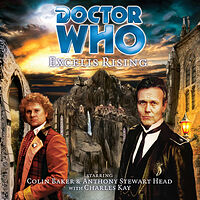 | | | |
| --- | --- | --- |
| | | |
| | Reviews for Excelis Rising | |
| | | |
There are 3 reviews so far. To add a review of your own for this item, visit the voting page.
I don't think any of us need any more proof that Colin Baker is the greatest of all the Doctors. Although there was sixth months of Eighth Doctor audios coming up the Excelis audios were the ones I was really looking forward to because the past Doctors are well better than the Eighth Doctor, and the Sixth Doctor is the best of them. Colin has already been given the best stories and a great new companion (and a Penguin)and the character is warm caring and Colin is a brilliant actor and really brings the Sixth Doctor to life. You can tell he is enjoying it. May fave Doc.

The style of this adventure is very different from the excellent Excelis Dawns but carries on the ongoing story very well. David A McIntee has written a great story. I have always loved victorian London and the idea that the city of Excelis is like that, and the paranormal influences and airships floating in the sky is a pleasing idea. Also incidental music for Excelis so far is brilliant, plus the covers and Anthony Stewart Head is blinding. Only regret is that there was no cliffhangers, they could have split it into two episodes.
| | | |
| --- | --- | --- |
| | | |
| | Best Of The Excelis Adventures | |
| | | |
By:
David Layton, Los Angeles, United States
Date:
Friday 29 September 2006
Rating:
6
Excelis Rising is far superior to the other two Excelis dramas, especially the hideous Excelis Dawns. Rather than simply going over the same material, David McIntee has made this almost wholly independent. It has much that is typically Doctor Who: a single enclosed setting, a limited set of characters, a tightly compacted sequence of events. Anthony Head is much better in this one than in Excelis Rising. He was unconvincing as the lumbering Grayvorn, but the civilized Maupassant plays into his strengths of modernity and subtlety. Still, as part of a series, there is too much left out and left unexplained. The story advances our knowledge not one bit regarding the Relic, what it is, what it really does, how it came to be.
By:
Matt Saunders, Buckinghamshire, United Kingdom
Date:
Monday 27 October 2008
Rating:
10
It really is the best of the Excelis four - and I've always been a fan of McIntee. Head is at his best in this audio play, and has some very funny nervous lines. Plus, Colin Baker once again proves himself as an excellent Doctor - he's just brilliant! I also love the line at the beginning, when they're wondering what the horrible patch work thing was -