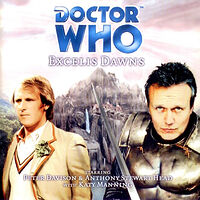 Note: First in the Excelis mini-series, which also includes Excelis Rising, Excelis Decays and The Plague Herds of Excelis. The soundtrack from this drama was released as part of Music from the Excelis Audio Adventures.
Cover blurb:
That terrible old reprobate and transdimensional adventuress Iris Wildthyme has gone and locked herself up in a nunnery on the savage world of Artaris.
Here she is discovered by the Doctor and the reasonably brutal warlord Grayvorn. Together — with a peculiar nun they pick up en route — they must travel the forests and swamps of this ghastly world in Iris's double decker bus in order to tussle — to the death — with a horde of flesh-eating zombies for a mysterious and holy relic of unfathomable value and questionable pedigree.
But what is the Mother Superior's part in all this?